Gutter Installation Hassles and How to Avoid Them!
Individuals, like you, looking to install a new gutter system on their home, but dreading the mess and hassle, will want to read on! Our gutter system was installed by the best company in town. It is called Rain Carriers, and they are located in Midlothian, VA. They can provide services for any home, business, or property owner looking to install a new rain gutter system.
Things To Look Out For When Installing Gutters
What are the most effective and simple gutter installation tips for people to follow? Firstly, we recommend that homeowners familiarize themselves with the basics of the gutter installation process. Most importantly, we advise homeowners to be patient and work slowly throughout the entire process . One mistake made here can cost a homeowner thousands of dollars down the road. Unfortunately, it's not uncommon for homeowners to simply throw money away by paying too much for shoddy work from an unlicensed contractor or trying to do it themselves only to end up with problems for years.
Clean the gutters before installing
Prevent future clogs by installing leaf guards
Seek professional help unless you are experienced
Installing gutters can be very dangerous.
How to Avoid Hassles with Gutter Installation
Gutters are a great way to keep rainwater off your home and out of your basement, but they can be difficult to install. Many people don't have the time or skills to make gutters themselves, for the general public you'll want to consider hiring a professional like Rain Carriers with the necessary training. Make sure you purchase the material that you want and if you're unsure which one, check out our guide to gutter materials here!
The next thing to think about is to purchase the right amount of gutter material for your home. Using short pieces of gutter is not a good idea. A proper width should be used. It is a fact that a lot of people can't afford to purchase new materials for their gutters, and sometimes your existing gutters can be fixed. Get a free inspection here. Knowing the correct amount of linear feet of gutter needed for your project is a must. Furthermore, you need to consult a landscaper in order to determine the proper places to put your downspouts. You also need to know the best way to divert the water away from you home and its foundation.
As you can see, gutter installation is more involved than most people think. A professional gutter company can take care of everything for you without the need for consulting with other experts. In general this saves you time and money and is the best option for getting gutters installed on your home.
When to Hire a Gutter Installation Professional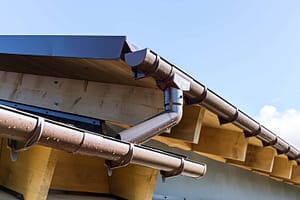 A gutter installation professional will help you avoid a potential hassel. Hiring a professional is a wise decision if you have a hard time climbing ladders, have a small yard, have a sloped roof, or any of the other potential dangers most homeowners don't recognize. A professional will also be able to install gutters that are leak-proof and will work with your style preferences. In addition, a professional can quickly install gutters so you don't have to worry about the extra time and labor it would take to do it yourself.
Midlothian, VA has a professional gutter installer that can complete a thorough inspection of your home and identify potential areas that might need attention, for FREE! One thing you can do to help prevent damage is to trim your trees and bushes around the roofline. Even if there is no rain, water can collect on the leaves of the plants and drip down onto your home. The plants will also clog your gutters giving way to a number of expensive problems for your home.
There is less of a chance that the gutter will leak or that you will have to do it yourself if you hire a professional
You can be sure that a professional will do a good job
You can save tons of time and money
Hiring a professional is the best option
The install process will be easier for you. You can't complete all of the steps required for installing gutters alone.
Some potential problems include:
damaged gutters and roofs leaking

drainage issues more prone to mold and mildew

excessive wear and tear on shingles and shingles that will need to be replaced more frequently.
Overall, hiring a professional with years of expertise in gutter contracting is the best way to go for your home. The money that you will save in issues down the line is worth it! A professional like Rain Carriers can get your home in tip top shape on budget, and on time!