Gutter Materials
They're Not All Equal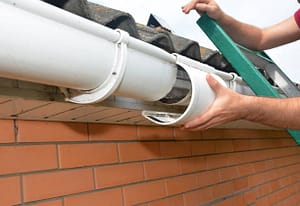 The Gutter materials you chose are more important than you think.
Gutters are an essential part of the home's exterior for keeping the house dry. Gutters channel rain water away from the foundation, protecting the home. These and other advantages are why gutter installation is one of the most common exterior home improvement projects in Richmond. But, there are many types of gutters, some materials are not well suited for Richmond Virginia's weather, rainfall or position on the roof.
When someone is considering a new gutter installation, they might assume that any material will work. That's not true. Gutter materials have varying strengths, as well as advantages and disadvantages. Understanding the differences between gutters is an essential first step in determining if and what kind of gutter to install, that's where Rain Carriers comes in! 
Comparing Gutter Materials
The Top 4 Types
Wooden gutters have been used by builders for many years. However, wooden gutters are susceptible to weathering and rotting. Because they corrode easily, wooden gutters have gone out of fashion for modern homes. Today, aluminum, vinyl, steel, copper, and zinc gutters are what most homes are fitted with. Half-round and K-style gutters made of all these materials but fascia gutters are mostly made from aluminum.
Here's how the five materials stack up.
Pros and Cons:
Aluminum Gutters have tons of benefits. Firstly, they are light weight and they aren't susceptible to rust. This contributes to the long life of aluminum as you can expect to get up to 25 years out of them. Secondly, they can greatly add to the over aesthetic of your home as they will take paint. Aluminum gutters are also available in a variety of colors. Lastly, Aluminum Gutters are weatherproof. You won't have to worry about elements affecting them as much as some other materials. However, as mentioned above, aluminum is a soft metal. This leaves gutters made from this material in danger of being bent and dented from debris.
Aluminum gutters need a cleaning and inspection at least once per year by a certified technician like Rain Carriers. This insures the longest life from them. Ask about our maintenance services!
Pros and Cons:
Zinc gutters are highly durable and won't rust or corrode over time. They are also very resistant to warping and fading.  For curb appeal you don't have to worry about painting. The appeal of zinc is that it develops its own beautiful patina that almost every homeowner loves. Unlike some other materials, zinc gutters have an unusually long life which makes the cost worth it. Therefore, when considering zinc gutters consult with Rain Carriers about your budget because they are pricy, but you definitely get what you pay for.  However, watch out for salty or acidic conditions as this is the only Achilles heel of zinc.
Zinc gutters need to be professionally installed by a certified technician like Rain Carriers. You risk wasting tons of time and money otherwise!
Pros and Cons:
Vinyl gutters are a great option for many budgets, their application can be beneficial in many areas. Firstly, vinyl doesn't rust as it contains no metal, additionally they don't corrode. Secondly, being manufactured in a variety of styles, they can match almost any aesthetic. Since vinyl is very inexpensive this gives first time home buyers and remodelers tons of flexibility. Finally, they do not take damage from salty air. This is a quality that most all metal gutters lack. However, vinyl gutters are sensitive to direct sunlight. Fading is a big problem for most vinyl gutters and, direct sunlight over time can make them brittle. You have to be careful when working on your home as a ladder leaned against them can crack them.
It is important to use a certified contractor, like Rain Carriers, to help you with maintaining, and installing your vinyl gutter systems.
Pros and Cons:
Copper Gutters are beautiful. They have an awesome bright glowing quality that develops into an attractive weathered patina. There is no need to paint or otherwise refinish copper gutters. Importantly, they are extremely durable and can handle all types of weather and climates. Copper gutters won't rust, corrode, or warp and, are very resistant to damage. However, nothing about copper is budget friendly but the results and the longevity of these gutters won't disappoint.
Copper gutter systems require a certified gutter contractor for installation.  Without Rain Carriers you risk wasting tons of money and completely busting your project budget.
Installation
Licensed, Insured, and Qualified installation services for any type of Gutter System. Save money and time by getting it done right the first time!
Maintenance
Professional maintenance services for any gutter system or material type. Ensure the long life of your gutters and save money!
Customer Satisfaction
We strive to make every job fast, easy, and painless, for every one of our customers. We will go the extra mile to make sure that you are happy!