From Dream to Disaster
How Hiring the Wrong Contractor Can Ruin Your Home!
Are you ready to turn your house into the home of your dreams? We know the feeling of excitement and anticipation that comes with envisioning the perfect space. But we also understand the worry that lurks in the back of your mind: finding the right contractor to bring your vision to life. Don't fret! In this article, we're here to ease your concerns and guide you through the process of hiring a contractor who will turn your dream project into a reality.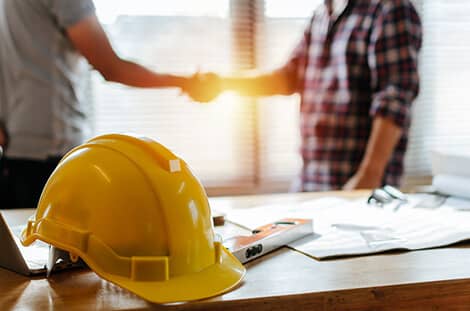 Let's Start With The Signs Of A Bad Contractor
Picture this: You're sitting down for a consultation with a potential contractor, and something just feels off. Trust your gut! It's crucial to be able to recognize the warning signs that indicate you might be dealing with a less-than-ideal contractor. So, let's dive into some common red flags and anecdotes that can help you steer clear of a bad contractor.
First and foremost, one of the most significant warning signs is the lack of proper licensing and insurance. A reliable contractor will always have the necessary credentials in place to protect both you and their workers. Remember, it's essential to ask for proof of insurance and licensing before moving forward. Don't be afraid to ask for these documents—I once had a homeowner who shared a story about a contractor who claimed to be fully insured, but when an accident occurred on their property, they discovered the hard way that the contractor had no coverage at all. Yikes!
Another key indicator is the absence of a solid presence.
A reputable contractor will have their information available, usually on their website and other places. This not only shows professionalism but also provides a sense of stability and accountability. Personally, I recall a situation where a friend of mine hired a contractor who seemed great initially but later disappeared without a trace. It turned out the contractor had been operating out of a van, making it nearly impossible to track them down when things went south.
Communication is also a vital aspect to consider.
A good contractor values clear and open lines of communication with their clients. If you find yourself struggling to get timely responses or experiencing a lack of communication, it might be a sign of things to come. Effective communication is the foundation of any successful project, and you deserve a contractor who keeps you in the loop every step of the way. Remember, a contractor who actively listens and addresses your concerns is worth their weight in gold.
By being aware of these red flags we hope to empower you to make informed decisions when selecting a contractor. Stay tuned as we move forward to explore the risks associated with hiring the wrong contractor and how you can protect your home from potential disasters. Don't worry; we've got your back!
The Risks of Hiring the Wrong Contractor
Okay, folks, let's talk about the risks involved in hiring the wrong contractor. Trust me when I say that making a hasty or ill-informed decision can have some serious consequences. But fear not! By understanding these risks, you'll be better equipped to protect your home and your sanity throughout the renovation process. So, let's dive in and explore the potential pitfalls.
One of the most significant risks is shoddy workmanship.
Imagine you've been dreaming of a beautifully remodeled bathroom, but the final result falls far short of your expectations. The tiles are uneven, the plumbing is leaky, and the paint job resembles a toddler's finger-painting session. It's a nightmare! Sadly, I've heard too many stories from homeowners who ended up in this very situation because they hired a contractor without thoroughly vetting their skills and past projects. Remember, a skilled and experienced contractor will take pride in their work and deliver high-quality craftsmanship that stands the test of time.
Delays are another risk that can turn your project into a never-ending saga.
We've all heard the joke that home renovations take twice as long and cost twice as much as initially anticipated. While a bit of a delay is common in the construction world, an unreliable contractor can take it to a whole new level. I once had a friend who hired a contractor to remodel their kitchen, only to find themselves waiting for months beyond the promised completion date. The frustration and inconvenience were through the roof! That's why it's crucial to choose a contractor who values punctuality and adheres to realistic timelines.
Financial losses are yet another hazard when you hire the wrong contractor.
Picture this: You've set a budget for your project, but as the work progresses, you start receiving unexpected invoices for "additional expenses." Suddenly, you're faced with skyrocketing costs and a sinking feeling in your stomach. It's a nightmare scenario that can leave you financially drained. Take it from me; it's essential to have a detailed written contract that outlines all costs upfront and includes a clear scope of work. Don't leave any room for surprises that could empty your wallet.
Understanding these risks can help you make good decisions and protect your home from potential disasters. Stay tuned as we move forward to explore essential tips for avoiding the wrong contractor and finding the right match for your project.