The Hidden Dangers of Neglected Gutters: 
Midlothian VA's Shocking Revelation!
Hey there, it's Rain Carriers! Are you aware of the unsung heroes of your home? Yes, I'm talking about gutters! These seemingly inconspicuous channels play a crucial role in maintaining a healthy and functional home. You might not give them much thought, but trust me, neglecting your gutters can lead to some serious consequences.
Gutters are designed to collect rainwater and channel it away from your home's foundation, preventing water damage and potential flooding. They act as a protective shield, safeguarding your property from the harmful effects of water infiltration.
They may seem insignificant, but their role in protecting your home is invaluable.
Neglected Gutters: A Recipe for Disaster:
As Midlothian VA's gutter repair experts, I can't stress enough the importance of regular maintenance for your gutters. Neglecting them can lead to a whole host of problems that you definitely want to avoid.
One of the primary consequences of neglecting gutter maintenance is the accumulation of debris, leaves, and twigs. Over time, these items can build up and clog your gutters, preventing proper water flow. When this happens, rainwater has nowhere to go, and it starts overflowing from the gutters.
This overflow may seem harmless at first, but it can actually cause significant damage to your home's exterior. The fascia, soffit, and siding are particularly vulnerable. The excess water can seep into these areas, leading to rot, decay, and even structural issues. Repairing or replacing damaged fascia, soffit, or siding can be a costly endeavor that could have been easily prevented with regular gutter maintenance.
But wait, unfortunately there's more! Clogged gutters can also result in water seepage into your basement or crawl space. When water isn't properly directed away from your home, it can find its way into these lower areas. This can create the perfect environment for mold growth, which not only poses health risks but can also cause significant damage to your home's foundation.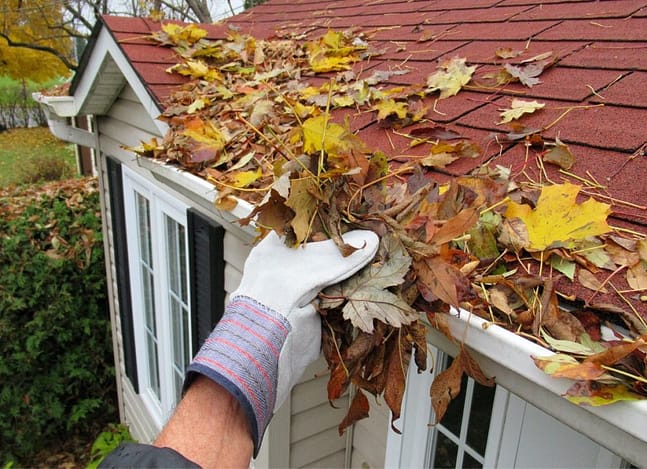 So, it should be clear that neglecting your gutters can mean disaster for your home. Regularly cleaning and maintaining them will save you from potential headaches down the line. Take the time to protect your investment and ensure a dry and healthy living environment for your family.
Pest Infestations and Health Hazards:
I bet you didn't realize neglected gutters can be a breeding ground for pest infestations. This poses serious health hazards. When gutters become clogged with debris and leaves, stagnant water accumulates, creating an ideal environment for mosquitoes, flies, and other insects to thrive. These pests are not only annoying but also carry various diseases that can pose risks to human health.
Mosquitoes, in particular, are attracted to the stagnant water in clogged gutters. They lay their eggs in the water, leading to a rapid increase in their population. Mosquito-borne diseases such as West Nile virus and Zika virus can be transmitted to humans through mosquito bites. These diseases can cause symptoms ranging from mild flu-like symptoms to more severe complications, including neurological disorders.
Apart from mosquitoes, neglected gutters can also attract rodents and birds looking for shelter and nesting sites. Clogged gutters provide a warm and protected space for these pests to build their nests. Not only do rodents and birds cause further damage to the gutters themselves, but they also bring additional hazards. Rodents, such as rats and mice, can carry diseases like leptospirosis and hantavirus, which can be transmitted to humans through contact with their droppings or urine. Birds nesting in gutters may introduce mites, ticks, or fleas!
To prevent these pest infestations and associated health risks, it is crucial to maintain clean and functional gutters. Regular gutter cleaning and maintenance will ensure that water flows freely, eliminating stagnant water and reducing the attraction for pests. Additionally, installing gutter guards or screens can help prevent debris buildup and block pests from entering the gutters.
Remember, a well-maintained gutter system not only prevents water damage but also keeps pests at bay, promoting a healthier and safer living environment.