Benefits of Professional Gutter Installation
Professional installers have the experience and expertise to ensure your gutters are installed correctly and safely, reducing the risk of expensive damage to your home and other problems.
How can a professional gutter installer

help protect my home?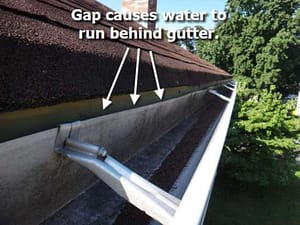 Gutters that are not properly installed can result in water damage to your property, leaving you with a hefty bill for restoration; estimates range from $1,304 to $5,514. If you factor in the costs to re-do the gutter work, it could easily come to $5,000 – $10,000! Save yourself from this heartache – trust me, it's not worth it.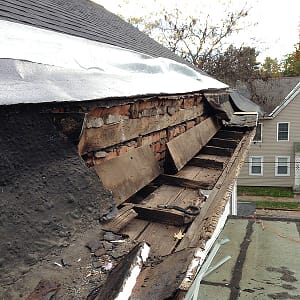 If not properly secured, gutters can be a real hazard; they could come loose from the house and potentially cause injury. Worse still, they could cause water to build up, leading to soil erosion around the foundation and consequently damage your home, costing a pretty penny. What's more, if water pools on your roof due to faulty gutters, your property may be at risk of structural weakening and water leakage. On average, foundation repair costs a whopping $5,633 – something you'll want to avoid at all costs!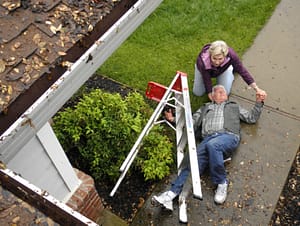 Working on a ladder or roof can be dangerous, especially if you don't have the right safety equipment or experience. Always make sure the ladder or roof is secure before beginning any work, and don't overexert yourself. Don't attempt any repairs if you're not confident in your ability to do them safely. Each year in the U.S., more than 500,000 people are treated and about 300 people die from ladder-related injuries.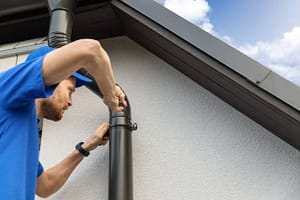 Without the right tools and materials, you may end up with a bad gutter installation. It is important to have the right tools and materials, such as a ladder, gutter brackets, fasteners, sealant, caulk, and more. Having all the needed items on hand will ensure that the job is done properly and safely.
It's not as easy as it sounds. When it comes to protecting your home, it's essential to factor in things like the pitch of your roof, the angle of the gutter, the placement of the downspouts, and more. One miscalculation can result in an inefficient gutter system that ends up causing more damage than good.
Rain Carriers provide a FREE inspection when you schedule a consultation with one of their professionals, making it easier for you to choose the most suitable gutter for your home. Taking into account the climate and terrain of your area, their technicians make sure that the right type of gutter material is selected – avoiding potential risks to your home.
Furthermore, you can have peace of mind that your gutters have been installed properly, as professional installers offer a warranty on their work. Going without a warranty, however, is a huge risk. If something goes wrong, you won't have any financial coverage, leaving you with the burden of having to spend more money to get it fixed a second time!
Finally, regular maintenance is essential for keeping your gutters functioning optimally and extending their lifespan. It's not a case of set and forget! From cleaning to inspecting, professional installers can take care of it all, ensuring it doesn't become an unwelcome dent in your annual budget.
Finding a Gutter Installation Company that is professional.
If you're looking for a professional gutter installer in Midlothian, VA, then you're in luck. When choosing a contractor, it's important to consider factors such as experience, customer reviews, and price.
Experience is key when it comes to gutter installation. Make sure to ask your potential contractor how long they have been in business and what types of gutters they specialize in.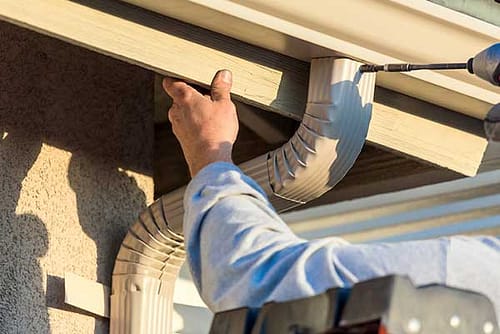 Customer reviews are also a great way to determine the quality of a contractor. These reviews will give you an idea of the customer service, pricing, and quality of work that a contractor provides.
Finally, when shopping around, keep price in mind; but don't forget the importance of getting good value for your money too! Remember, taking the lowest price you find isn't always the best choice. It could mean working with an inexperienced company that's willing to sacrifice quality just to get the contract.
By taking these factors into consideration, you'll be able to find a professional gutter installer in Midlothian, VA who can provide you with quality work at a fair price. 
What Should You Consider When Choosing a Gutter Installation Contractor?
Ensure that the company is properly licensed and insured. This will protect you in case something goes wrong while they are performing a service at the home or business. If they do not have insurance and cause damage, it will come out of your pocket. They should carry a minimum of $1,000,000.00 in liability insurance.
Consider the types of materials they use and the warranty they offer. Having quality materials and a good warranty can end up saving you a lot of money in the long run, so make sure to ask your gutter company about their warranty in great detail – what's covered, what's not and how they handle claims. It's essential to get this all in writing, so if any issues arise, it'll be easy to clearly define what you're entitled to. Plus, make sure to enquire about the materials they usually work with; not all companies are versed in working with all materials, and you don't want to find yourself in the middle of a job with a company that has no idea what they're doing!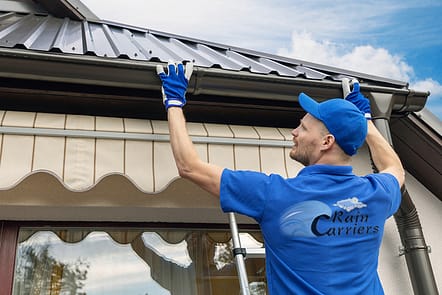 It is essential to ensure that the team you hire is informed and has expertise in gutter installation. Inquire about their background and training! Do they bring on staff with expertise, or just any employee without an understanding of their level of experience? At Rain Carriers, they only take on qualified specialists who have an in-depth knowledge of gutter installation and its details. They also make sure that each employee of their company is well-versed with the tools and techniques involved in the installation process.
Finally, check out their customer service. Do they get back to you promptly? Do they address your queries? All of these factors combine to shape your experience when working with them.
So, who's the best company for gutter installation in Midlothian VA?
Rain Carriers! Rain Carriers offers a FREE inspection of your home, examining not only your gutters, but also your roof, siding, and all other elements to ensure your property is weather-proof. With years of experience dealing with hundreds of homes in Midlothian, VA, we can offer you a detailed, straightforward estimate of any issues we find, helping you make the best decisions for the maintenance and safety of your house.
With Rain Carriers, you get the perfect blend of affordability and superior quality. They offer some of the most competitive prices available, with absolutely no compromise in the quality of their work. Every job is followed up with an industry-leading warranty and a satisfaction guarantee, so you can be sure you're getting top-notch service that meets your expectations. On top of that, you'll get the priceless assurance of knowing your job was done right. Get the peace of mind you deserve with Rain Carriers.
Conclusion
Investing in professional gutter installation is an important part of protecting your home from water damage. Not only will it keep your gutters functioning properly, but it can also add value to your home and provide peace of mind. If you're ready to get started on your project, make sure to do your research first and find a reliable contractor like Rain Carriers who can provide the quality workmanship you need.
What We Learned

About the Benefits of Professional Gutter Installation
Gutter installation is not a DIY job; it's an investment in your home's protection. Not only will professional installation save you time and money, but it also reduces stress. Plus, a well-executed job not only performs its function correctly, but it also adds to the aesthetic appeal of your home – something to consider when calculating the total value of the job. Attempting to install gutters without professional help is a risky endeavour and can cause extensive damage, leading to costly repairs. So, remember – a professional gutter installation is a must.
If you're looking to safeguard your home in Midlothian VA, professional gutter installation is an absolute must! By enlisting the services of a reputable gutter installation company, you'll be able to take advantage of premium materials and workmanship, plus extensive warranties to protect your investment. What's more, you can count on regular maintenance to keep your gutters in top condition. All in all, it's the only way to go, and there is no better company to call then Rain Carriers.