Richmond Va Area Gutter Company
Shares Their Secrets with You!
Find out Why You should Hire Professional Gutter Cleaners over doing the job yourself.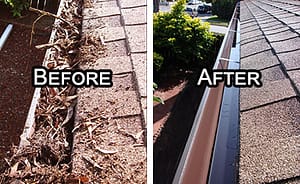 Keeping your gutters clean is important for the health of your home. Pollutants and debris can get into your gutter system, causing all sorts of damage to your home's foundation and roof. The art of rain gutter cleaning may be simple, but it's a lot harder to clean gutters than you think. Keeping your gutters clean will save money and headache in the future. It's one of the many things that will keep your house in tip-top shape.
A dirty gutter will cause water to come in contact with the fascia boards and lead to rot. If you don't deal with this, the rot will eventually spread to the roof decking. Gutters can become clogged with dirt and leaves. This will prevent rainwater from being drained away causing the gutters to overflow and damage your home.
Read our article on the 5 ways your can protect your gutter system!
Rain Carrier's Gutter Experts
Share What You Need To Know About Cleaning Your Gutters
Why Is Cleaning Your Gutters So Important?
Properly functioning rain gutters protect your house from water damage by redirecting the flow of rain away from the foundation. Guttering can suffer blockages, and if too much debris get in the way of water flow, your roof, walls, and foundations can suffer expensive damage. You'll want to keep up with a regular gutter cleaning routine. The damages that you can see from a clogged gutter may include:
Exterior staining.

Damage to the walls.

Settling or cracked foundation.

Basement flooding.
How Do I Know If My Gutters Need To Be Repaired or Replaced?
If you notice any water flow issues, or water pools around your home, there is a good chance that your gutters are in need or repair or might need replacing. Things to look out for may include:
Gaps or separations

Sagging

Screws or nails on the ground.

Cracks or fractures

Signs of water damage on exterior walls.

Rust or other oxidation on your guttering.
How Often Do I Need To Clean My gutters?
We recommended that you clean your gutters at least twice per year. Ideally, this would be once in the spring and once in the fall. However, you should clean them when the gutters become clogged or you notice any debris inside of the gutter track. Call us if you see any leaking or overflow to have your gutters inspected. There should be no water draining off of your home outside of the gutter system.
How Much Does It Cost to Replace or Repair My Gutters?
Gutter repair or replacement can cost anywhere from $300-$3,000 on average, depending on how many linear feet of gutter you have to install. The cost of replacing gutters varies per home. Hiring a professional gutter company to do the job is not only safer, but will also save you a lot of money and time in the long run. The type of gutter material you chose, the length, and the location of installation determine the cost. Other cost considerations are the labor and effort that goes into installing or repairing your gutters. Certain materials take extra work as well as specialized placement or aesthetic considerations.
If your gutters needs repair, the extent of damage to the gutters and your home can drastically affect the cost. This is why you should have your home inspected by a licensed gutter professional annually.
Here is our guide on gutter materials and closing the right one!
Gutter Cleaning Isn't For The Faint Of Heart!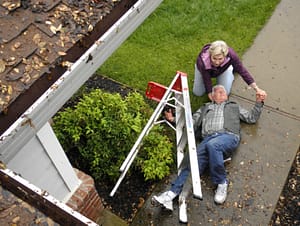 Gutter cleaning can be a difficult and potentially dangerous task, so it's best to hire professional gutters cleaners. Doing the job yourself can be hard on your back and may cause injury without the proper equipment and safety training. There are many things that can go wrong when doing this type of work yourself and if you are not knowledgeable about the materials or have the right tools, you could end up damaging your home. Hiring professionals will allow you to have a stress-free experience and avoid any problems.
In the past, many homeowners have attempted to clean their gutters using a variety of different products. Unfortunately, these DIY solutions can often lead to more problems and potential safety hazards for the homeowner. Often these products can cause damage to the gutters, such as cracking the sealant and allowing water to leak into the gutter system.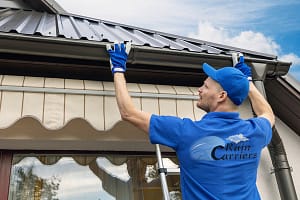 The task of cleaning gutters is best left to the experts. Having a maintenance schedule with a local Gutter Expert like Rain Carriers is the way to go. This can take all of the headache out of keeping your home maintained and free from damage. You will have peace of mind that you home is in good hands, and if any issues arise– Rain Carriers can take care of it for you!
You Have Nothing To Lose!
Get a Free inspection of your home's Gutter Systems and find the peace of mind you need. Cleaning, Repair, Installation, Roofing, Siding, and more, Rain Carriers is the choice for your home's protection!