How to Get the Perfect Gutter Cleaning & Repair Service
Comprehensive information on getting your gutters cleaned, inspected, and maintained at the lowest gutter cleaning cost possible.
There are a lot of things that you need to think about when you are looking for a gutter cleaning and repair service. You want to make sure that you find a company that is going to be able to do the job right, and you also want to make sure that you find a company that is going to be able to do the job at a reasonable price. With that being said, here are some tips that will help you find the perfect gutter cleaning and repair service.
What does gutter cleaning include?
And what you should expect from your company!
Gutter cleaning is essential for a healthy gutter system and to prevent the buildup of debris and dirt. The average gutter cleaning includes the cleaning of the inside of the gutter as well as the outside of the gutter, the downspout is optional, but assessing any damage is crucial. While some minor gutter cleaning is required annually, more frequent gutter cleaning is recommended for heavily wooded areas and neighborhoods with a high concentration of vinyl siding. Also, the weather in Midlothian VA and the surrounding areas is dynamic, and we get a variety of severe weather without warning so, a well maintained gutter system is essential.
An experienced company like Rain Carriers of Midlothian VA will completely clean your entire gutter system and check it for proper installation, maintenance, and more. They will start by assessing the Gutters and their installation for any potential damages before beginning to clean. Then, by clearing the gutter of any debris or buildup they can see any potential risks to your fascia board or the home's soffit. Inspecting the downspouts and other water runoff pathways will also help make sure water is directed away from your home properly to avoid penetration into your home's foundation.
This through cleaning and inspection will include looking at your siding, roof, and other parts of your home affected by the gutter system. When the company finishes you should have total peace of mind that your home is in top shape and ready for the elements. On the other hand, if there are any needs that you home has you should receive an action plan with a comprehensive estimate on how to remedy those needs with a cost-effective budget to get the repairs done!
(When you're dealing with a top-rated company, these services and more should be included into your gutter cleaning appointment at a reasonable and competitive price.)
How Much

Should Gutter Cleaning Cost?
Gutter cleaning services don't have to be expensive. In fact, you can get a full gutter cleaning and repair service for under $100, but you can't guarantee you'll like the results. You have to remember, it's not just the cost of the service that you need to consider, but the quality of the work which plays a crucial role. 
Hiring a gutter company that doesn't have a top-rated reputation like Rain Carriers may get you a lower price however, it will definitely get you a lesser experience when it comes to the quality of service you receive.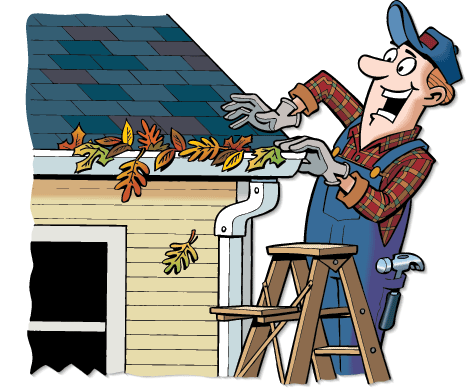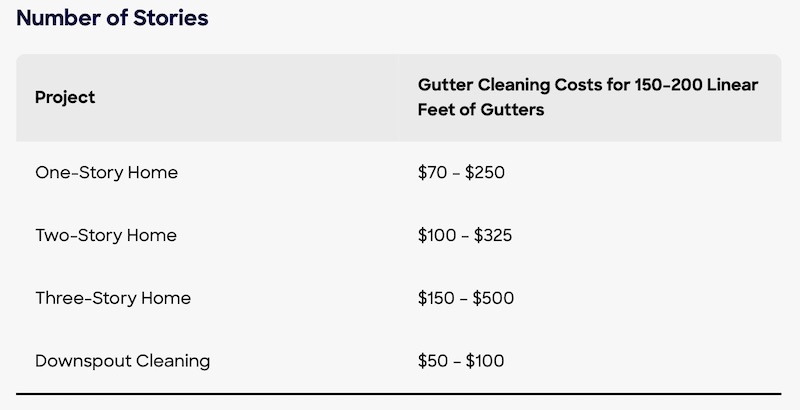 Gutter cleaning cost in Midlothian VA, Richmond VA, and the surrounding areas should average from $160–$350. However, there are actors that can affect the price of your gutter cleaning.
• The cost range for cleaning gutters on the first story of the home will typically be $0.70 to $1.30 per linear foot, while gutters on the second story and higher typically cost $1.25 to $2.50 per linear foot to clean.
• Some homes are better to base the estimate for the gutter cleaning costs on the square footage of the home. The average for this is about $0.40 per square foot to estimate the first floor and about $0.80 per square foot on the second floor. 
• If you are not cleaning your gutters regularly, an increased gutter cleaning price per foot of 10% to 50% for the extra time required for cleaning, depending on the level of debris and the condition of the gutters.
• In a typical gutter cleaning, not every gutter company will specifically clean the downspouts and extenders, unless you request it or the company says it's necessary. Cleaning the downspouts and extenders separately will often cost an extra $50 to $100.
Finding a price lower than that is possible however you end up dealing with companies that are just starting out and don't have established procedures or work. Gutter cleaning is an important part of maintaining your home, but when trying to cut costs, "clean" does not necessarily mean that your gutters are in good condition. Cutting costs does not give you the confidence that your home is prepared and in good shape and will lead to problems later. In addition, a lot of "cheap" companies can actually cause damage to your gutters and home when performing the cleaning in an improper manner, and they, nor you, are aware of the damaged caused until it's too late!
Are gutter cleaning services necessary?
Gutter cleaning services are an important aspect of maintaining the exterior of your home. The reason these services are necessary is that grime and debris buildup in the gutters can cause damage to your roofing system, thus costing you more! Moreover, gutter cleaning can prevent the potential spread of fire. Cleaning the gutters also reduces the amount of dirt, dust, and debris that end up on your roof, decreasing the overall maintenance cost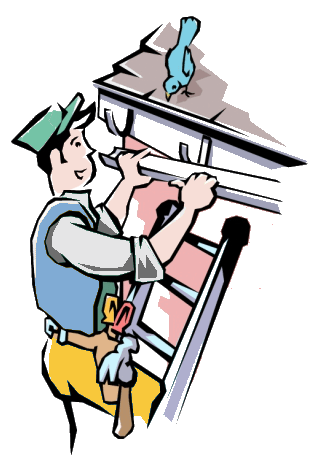 Clogged gutters are not only unsightly. They can also put you on the hook for thousands of dollars in repair costs, including the potential replacement of your entire gutter system.
Regular cleaning helps to clear away debris, dry out your gutters, and prevent the development of conducive conditions for mold and mildew growth. Gutter cleaning and repair services also help prevent large infestation of insects, as the damp conditions of a blocked gutter can be a great home for termites, mosquitoes, ants, and more.
There is no question that regular gutter cleaning services are 100% necessary. You can spend a few hundred dollars to prepare, and maintain your home, or you can pay the $5-10K that it will cost to repair your home once water damage has happened. It really is a no-brainer to go ahead and search for a "gutter company near me" and get it done right!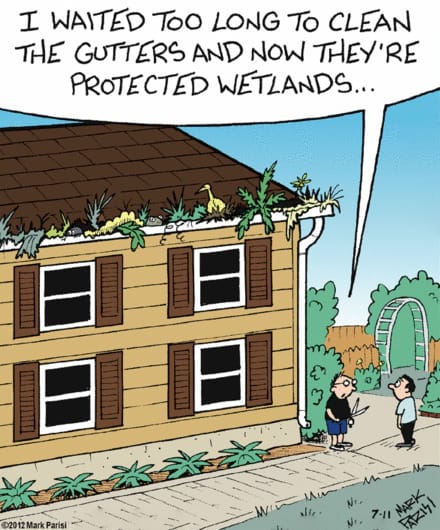 How to find the best gutter cleaning and repair company
Gutter cleaning and repair may not be the most glamorous part of home maintenance, but it is vital to the health and safety of your home. When it comes to repairing and cleaning gutters, no one does it better than Rain Carriers.
When looking at gutter companies, check out their website, their online profiles, their reviews. Everyone is going to have a bad review here and there- you can't please everyone. However, when a company is good at what they do the good reviews will drown out the bad ones, and you'll notice.
Look at what the company offers, do they have comprehensive services or do the just do one thing? Are they qualified to inspect your home and check that everything is in order while cleaning? Do they provide you with a rundown of your home after the cleaning? Do they offer ALL the services that your home needs to stay prepared for bad weather?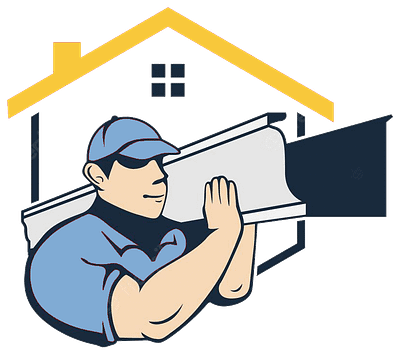 Don't Risk Taking A Fall, Give Us A Call!
Is DIY Worth It?
If you think to clean your own gutters rather than hiring a professional remember, gutter cleaning companies have equipment made to work at various heights and designed to wash debris down the downspouts. 
Typical home improvement tools like a garden hose won't have the power to match the cleaning company's equipment. Because of this, you may have not removed all the debris when cleaning the gutters yourself. This leads to problems that you can't see that will be way more expensive in the long run. Cleaning companies also will have the proper height of ladders, and they will have training and safety equipment to prevent injury. Remember, one of the most common hospitalizations among homeowners is a fall from a ladder.
So, ask questions, get a cost-effective estimate, and qualify the company. You have no worries if you chose Midlothian VA's number one company.  However,  if you chose otherwise, make sure you do your homework but above all, get a professional!