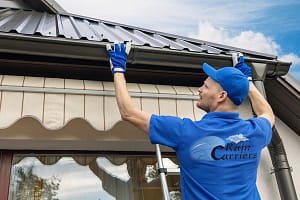 Gutter Installation for Home & Commercial
Our team custom-builds and installs high-quality gutter systems from start to finish. No matter the size or complexity of your home or business.
Homeowners often underestimate the importance of a properly functioning gutter system. It's what separates your home from a drippy mess. As a premier gutter contractor, we understand the importance of doing the job right. As our name suggests, we've built our business on one simple goal. We provide you with the best rain gutter installation in Richmond, Virginia.
When you add up all the costs—including the materials, labor, permits and water damage that can result from neglected gutters—a quality gutter installation from Rain Carriers will prove to be an investment in your home's future. So contact us and rest assured knowing that  your gutter system can handle even the toughest storms.
When you're looking for gutter installation in Richmond VA, look no further. We're the area's most trusted gutter contractor