Save Money On Your Roofing Costs
Here are our top 3 ways to do it!
Your roof costs but, it works hard to keep rain, snow, animals, and bugs out of your home. After 15-20 years of this it can get pretty worn out. Research showed that the average homeowner paid $8,000 to replace their roof in recent past. 
The cost of roof replacement will also depend on the materials you choose. Conventional asphalt shingles are the most common roofing material, though many people now choose to use different materials to get a custom look, which have their own unique costs.
What can I expect in costs of roof repair?
The costs of roofing can be broken down into three general categories, which can go up or down depending on your choices: Materials, Labor, & Disposal.
Asphalt shingles generally see figures from $3.50 to $5.00 a square foot, installed. When you get into higher-end products including metals, tiles and slate, the overall cost typically fluctuates from $9 to $15 per square foot.
You have control of these factors based on your budget and the look you are going for with your home.
Final prices can depend on a lot of factors. Roof complexity, size of your roof, and other design factors in your home. What you need is someone who is going to walk you through it to get the best for your budget!
Steps to Lower Your Roofing Costs
Lets Do This!
Do Some Roofing Homework
You should know the size and complexity of your roof and, know the exact materials you want before talking to contractors. Research the materials that you like and get a feel for the costs of them. This will help you keep the estimates consistent when talking to contractors.
Make sure that your contracts are including cleanup and disposal fees in their estimates. You can also research the average labor rates in your area. Most people will see $100 – $300 per roofing square.
One Roofing Square is equal to 100 square feet of roofing material. This is a good term to remember when talking to contractors.
Use Your Insurance
You pay for it after all
Homeowners insurance usually covers roof damage caused by non-neglect. For example, if a hailstorm knocks some shingles loose, your insurer may reimburse all or part of the replacement cost. To confirm if you are covered, you'll need to understand your policy so you can identify what is and isn't covered. 
Lots of common roof problems are not covered by insurance, including faulty installation or sealing by a contractor. So chose a reputable local contractor that you can research online!
Nerdwallet has a great article on understanding your homeowners insurance.
Don't Do It Yourself
It's Dangerous and Costly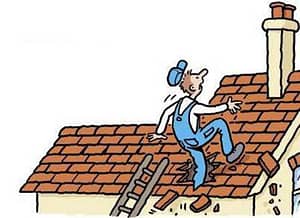 If your roof fails and causes damage to your home as a result of a DIY roof repair, you could be caught holding the bill.
Firstly, as we mentioned above, insurance does not cover improper installation. This will more than likely include a DIY job. Secondly, roof work is dangerous and requires stringent safety measures and specialized tools. Most homeowners do not have these tools or the proper safety measures. Finally, Homeowners do not have the luxury of access to the correct materials. Builder grade materials available at your local hardware store often don't cut it. They do not come with the warranties and life that higher quality materials have. Most of the time only licensed contractors have access to these name brand materials.
When working on your home it is often best to let professionals help. This protects your home and saves your costly repairs in the future.